Victor Dubuisson - Golfer With Balls Of Steel!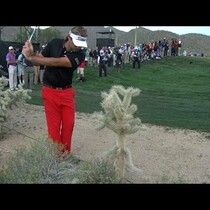 Posted February 23rd, 2014 @ 9:05pm
Had spring fever and was watching Match Play golf over the weekend. Today I saw the most exciting golf in my life. Victor Dubuisson made the two most incredible up and down shots on two consecutive holes I've ever seen in my life. Was like watching Happy Gilmore or Tin Cup. Unfortunately he lost to Jason Day after 5 extra play holes. Check these out.