In the air with Shinedown duo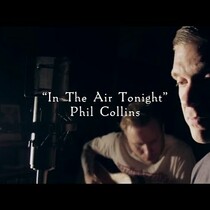 Posted March 12th, 2014 @ 10:58am
Shinedown vocalist Brent Smith and guitarist Zach Myers have premiered their cover of Phil Collins track "In The Air Tonight." It's one of ten songs chosen by Shinedown fans for the duo to perform.
Their original plan was to record one song a day over a ten day period, then release the set as an album - but they encountered rights issues with a number of the songs. As a result the first six were releases a few months ago.
Now, at last, fans can enjoy Acoustic Sessions Part 2, which also features covers of Bon Jovi, Pearl Jam and Adele. Smith tells Classic Rock: "We set out to do these covers because they were picked by our fans.
"We had to make sure the artist who wrote the songs were getting their full publishing, and legally that took some time - but here are the final four that completes our ten cover songs voted on by everyone.